As a native Southern Californian, the phrase "El Niño" conjures up associations of rain—lots of it. However, as a classical music lover, it also brings to mind the title of John Adams's marvelous Christmas oratorio.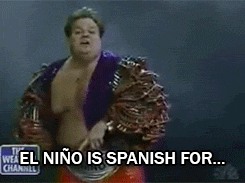 Composed in the year 2000, El Niño is sort of a distant, twenty-first-century cousin of Handel's Messiah. (I wrote about a twentieth-century equivalent last year, which you can check out here.) Adams's music and text settings are amazingly eclectic. Here, old texts from the Gospels (both the traditional and the Apocrypha), Martin Luther, and the Wakefield Mystery Plays fit comfortably alongside contemporary poetry by Spanish, Mexican, and South American authors. The music is similarly wide-ranging, encompassing Gregorian chant and classical choruses to minimalism and bebop. The result is a dazzling and ultimately, profoundly moving, account of the Christmas story.
To celebrate the Christmas season, here are a handful of my favorite excerpts from Adams's oratorio. The complete work can be heard in the Spotify playlist at the end of this post.
1. The Babe Leaped in Her Womb/Magnificat
Mary's visit to her cousin Elizabeth is given an intriguing musical treatment in Adams's oratorio. Setting words from the King James Version of Luke's Gospel, three countertenors (who act as narrators throughout the work) recount the story above a gentle instrumental backdrop—colored by guitar and tuned percussion—with occasional interpolations from the chorus. The titular phrase "The babe leaped in her womb" is set with buoyant cross-rhythms—a delightfully ear-catching moment.
Following this is Mary's famous canticle of praise—the Magnificat—a text that has been set by countless composers over the centuries. Adams's version is mostly reserved, yet brims with awe at the magnanimity of Mary's situation. (In the oratorio's only official recording to date, this portion is ravishingly sung by the American soprano Dawn Upshaw.)

Continue reading

"John Adams: "El Niño""